by Owen Fourie
First impressions count! The way you format your essay is important. A tidy presentation demonstrates your care for detail and your regard for the value of the exercise. It is also a measure of your respect for your instructor.
The following guidelines should help you, but whatever you have been told to do by your instructor must be done. Which style will you use? MLA? APA? CMS? Which variations within those styles will you use? This can be confusing, so keep to what your teacher or your professor specifies. The essentials, not the variations, are given below.
Cover it up!
A cover page may be in the following form showing the title of the essay, your name, the course details, your instructor's name, and the date of completion or submission: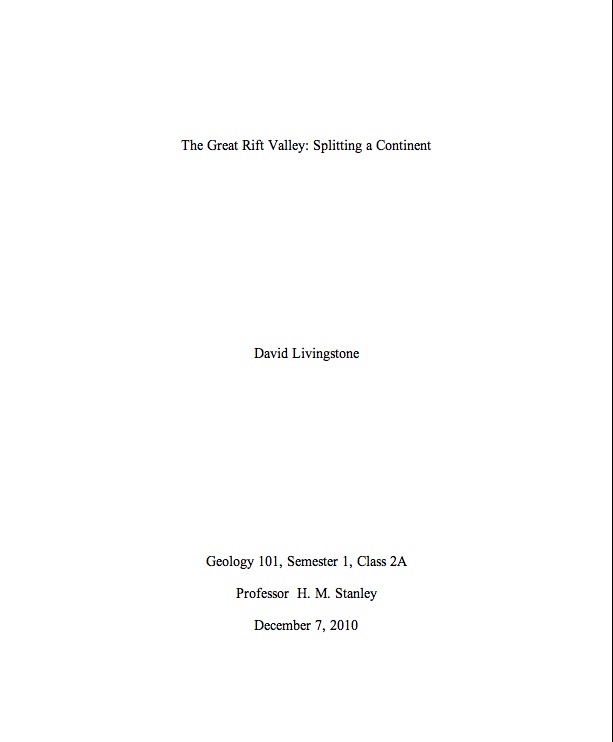 When there is a cover page, the first and following pages of your text need to show only your surname and the page number. No other detail from the cover page needs to be repeated.
Uncover it!
If a cover page is not required, all the details noted above need to appear on the first page of your text. Note, too, the important formatting points in the text, under the title, in the example below: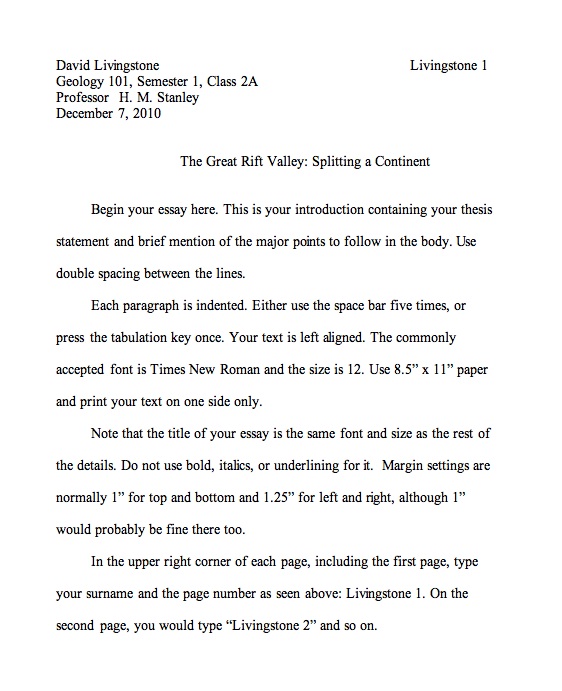 The following links will give you a larger view of the text in the above examples
http://www.flawhound.com/first-page-when-there-is-no-cover-page
http://www.flawhound.com/cover-page
I like your style!
Your Works Cited page obviously must be in the style that you have been instructed to use for your essay. At the conclusion of Part Two of "How do I Write an Essay?" you will find links to guides for using CMS, APA, and MLA.
If you have end notes to attach (usually before the works cited), here again you need to follow the required style. The links below will help you:
End notes: Using the Chicago Manual of Style:
https://writingcenter.boisestate.edu/wp-content/uploads/2011/09/CMS-endnotes-and-footnotes.pdf
[Note that "Ibid." is the abbreviation for the Latin ibidem meaning "in the same place," or "in the same book or passage."]
End notes: Using APA Style:
www.monmouth.edu/uploadedFiles/Campus_Life/Writing_Center/APAFootnotesEndnotes.pdf
End notes: Using MLA Style:
http://owl.english.purdue.edu/owl/resource/747/04/
Observe what is said in the items at some of these links. Endnotes and footnotes are not necessarily required or preferred.
MLA Style Research Document Format (7th Edition)
Here is a helpful video with Prof. David Taylor showing you how to format the MLA Style Research Document.
—-

What is your experience with formatting essays? Do you have any useful insights? What are your particular struggles? Do you have more useful links to the different styles? Your comments, observations, and questions are welcome.
Here are more articles to help you with English words, grammar, and essay writing.
Copyright © 2010 by English Essay Writing Tips www.englishessaywritingtips.com